Big 60 I with Wok Set
SKU: 300261-301152A
$525.00
$575.00
- You save $50.00
Big 60 I Gas Utility Stove and Wok Set
INCLUDES:
Propane Utility Stove (LP Gas)
$365
Wok Set
$160
Save $50!
This unit is for Propane Gas, but is available for Natural Gas. If you wish to order a Natural Gas unit, please call us at 800-326-9575.
Need Replacement Parts?
VERSATILE
Whether you want to simmer, sauté, stir-fry, steam, boil, or deep fry this utility stove and do it and more.
SUPERIOR PERFORMANCE
The Big 60 I is the best outdoor utility stove on the market. A large 10" diameter, low pressure, triple ring burner can be controlled from 2,000 BTU's - 60,000 BTU's using the three independent control valves.
COMMERCIAL CONSTRUCTION
Our Big 60 I features a 10" triple ring burner made of cast iron and painted steel frame that can be operated on a table-top or free standing using the included leg extensions.
PACKAGE DEAL
Included in this package is our wok set custom designed for our Big 60 I. The set includes a custom burner ring, 26" steel wok, and aluminum lid. The importance of the custom burner ring is to raise the wok off of the direct heat source and introduce oxygen for better, more even heating.
PROUDLY MADE IN THE U.S.A.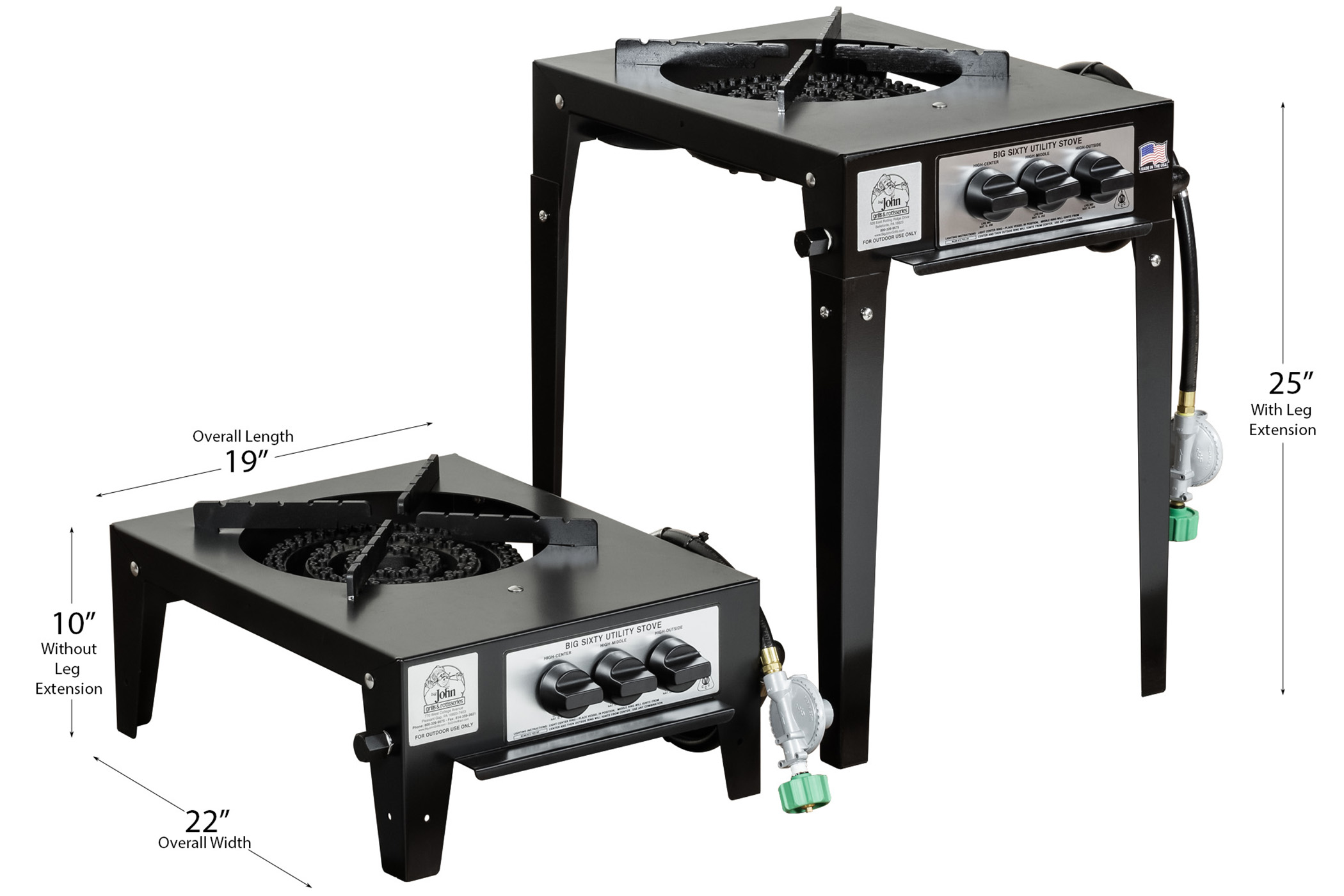 Assembled Dimensions
• Surface of Big 60 I: 19"L x 22"W (720 sq. inches)
• Pot Dimensions: 14"D x 15 1/16"H (8 Gallons)
• **PLEASE NOTE: All measurements are rough. Big John Grills recommends having equipment in hand for exact dimensions.**
Superior Components (Learn More)
• 6' low pressure hose
• Powerful 200,000 BTU low pressure regulator and 200,000 BTU Lime Green QCC (Quick Connect Coupler)
• 1 – Cast Iron 10" diameter 3-ring burner ranging from 2,000 BTU's to 60,000 BTU's.
• 3 adjustable, individually controlled valves
• 4 leg extensions (15")
• 4 finger grate pot supports
• 26" Steel Wok with aluminum lid
• Custom wok ring
Mobility
• Total weight of Big 60 I & Wok Set is 80 lbs.
Shipping Information
• Shipping weight is 80 lbs.
• Ships via UPS Small Package. Need it fast? Select "I Need Expedited Shipping" at checkout.
Propane Tanks
• 20 lb. Tank Burn Time: up to 7 hours
• 30 lb. Tank Burn Time: up to 10 hours
• 40 lb. Tank Burn Time: up to 14 hours
• 100 lb. Tank Burn Time: up to 36 hours
All Big John Equipment Is Manufactured For Outdoor Use Only
Accessories

for the Big 60 I with Wok Set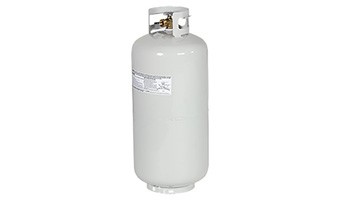 40 lb. Propane Cylinder
Item# 301017
For safety and convenience we only sell Worthington Cylinders that feature Overfill Protection Device valves. These tanks have both inner and outer threads to accept all standard POL & QCC fittings.
Accessory For all propane Units