A1TS/60
SKU: 300615-LP
A1TS/60 Built-in Gas Side Burner
INCLUDES:
| | |
| --- | --- |
| Propane Side Burner (LP Gas) | $900 |
| Stainless Steel Grate | $Included |
| Stainless Steel Weather Cover | $Included |
This unit is for Propane Gas, but is available for Natural Gas. If you wish to order a Natural Gas unit, please call us at 800-326-9575.
Need Replacement Parts?
VERSATILE
Whether you want to simmer, sauté, stir-fry, steam, boil, or deep fry this built-in utility stove and do it and more.
PROFESSIONAL PERFORMANCE
The A1TS/60 features our Big 60 I burner, the best outdoor stove on the market. A large 10" diameter, low pressure, triple ring burner can be controlled from 2,000 BTU's - 60,000 BTU's using the three independent control valves.
COMMERCIAL CONSTRUCTION
Our A1TS/60 features a 10" triple ring burner made of cast iron enclosed in a stainless steel chassis with an 11 lb. solid stainless steel cooking grate.
QUALITY HEATING
The 60,000 BTU adjustable, low-pressure burner evenly distributes a clean-burning and efficient blue flame across the entire bottom of the pot.
PROUDLY MADE IN THE U.S.A.
When you purchase equipment from Big John, you are getting a product made from the highest quality materials that is manufactured, assembled, and packaged in the U.S.A.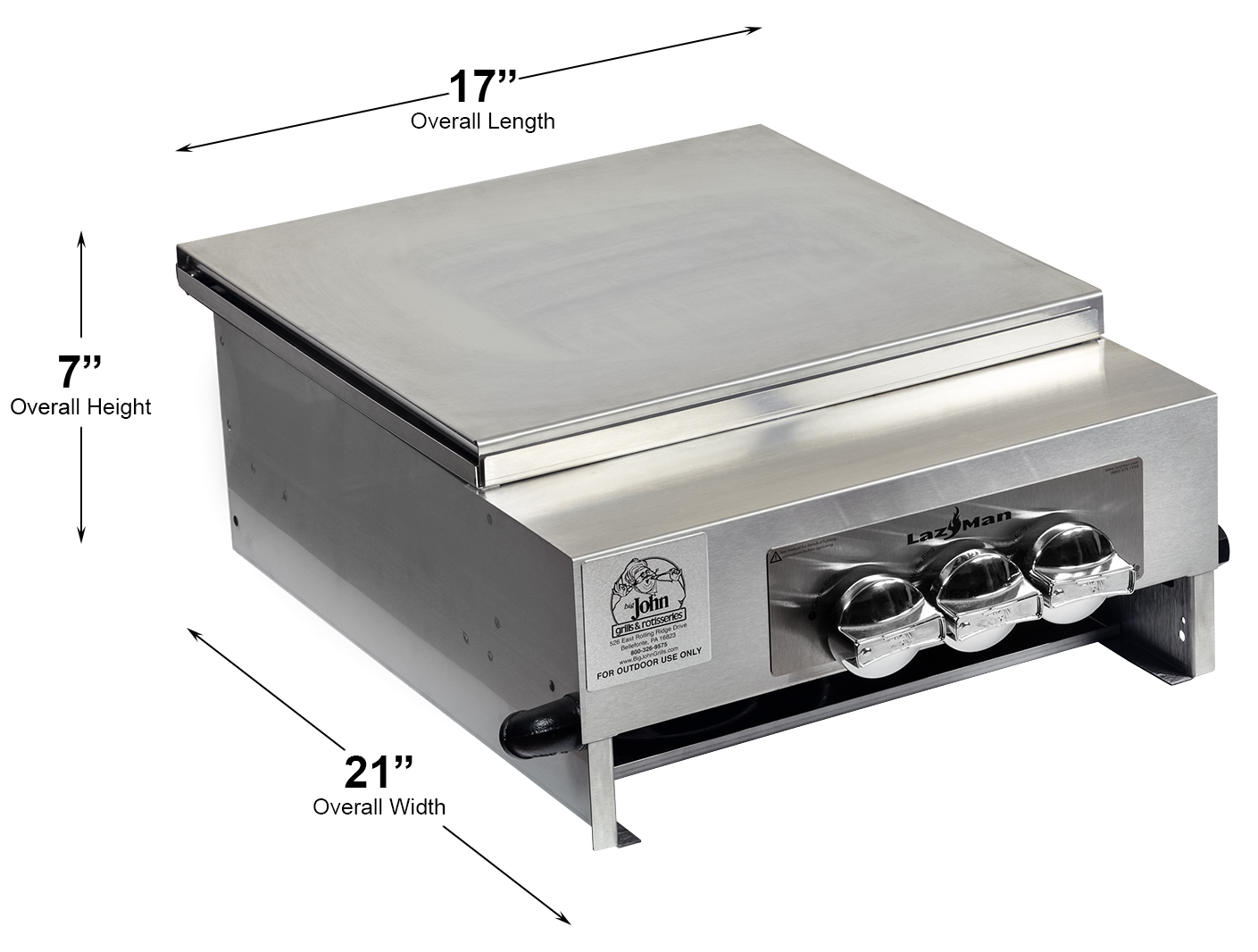 Assembled Dimensions
• Surface: 16 5/8" L x 21" W (349 sq. inches)
• **PLEASE NOTE: All measurements are rough. Big John Grills recommends having equipment in hand for exact dimensions.**
Superior Components
• 1 – Cast Iron 10" diameter 3-ring burner ranging from 2,000 BTU's to 60,000 BTU's.
• 3 adjustable, individually controlled valves
• 1 Stainless Steel Grate measuring 16 1/8" L x 16 1/8" W and weighing 11 lbs.
Mobility
• Total weight of A1TS/60 is 55 lbs.
Shipping Information
• Shipment Dimensions: 48"L x 44"W x 15"H= 18.33 cubic feet, shipping weight is 90 lbs.
• Ships via Common Carrier Freight (UPS Freight, XPO Logistics) tailgate delivery.
Propane Tanks
• 20 lb. Tank Burn Time: up to 7 hours
• 30 lb. Tank Burn Time: up to 11 hours
• 40 lb. Tank Burn Time: up to 14 hours
• 100 lb. Tank Burn Time: up to 36 hours
All Big John Equipment Is Manufactured For Outdoor Use Only
Accessories

for the A1TS/60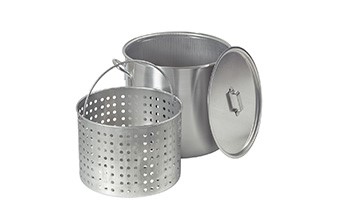 60 Quart Pot Set
Item# 400106access
Ideal for steaming or frying - lobster, clams, shrimp, or fish boils as well as to steam-cook vegetables and deep-fry turkeys. The included perforated basket can also be used for draining foods and are ideal for veggies and pastas. The bail handle is made for easy removal from pot for quick draining. Features 3/8" embossed feet. This set is manufactured from fast, even-heating 3004 aluminum with double-thick tops and bottoms for extra strength in the critical stress areas.
ACCESSORY FOR ALL UTILITY STOVES & POT COOKERS