A4TS-LPSS Combo
SKU: 300610-LPSSPKG
$2,985.00
$3,040.00
- You save $55.00
A4TS Combo with Stainless Steel Grates and Hood
INCLUDES:
Propane Grill (LP Gas)
$2245
Stainless Steel Grates
$Included
Stainless Steel Hood
$740
Save $55!
Need Replacement Parts?
LARGEST SIZE
This 65", 8 burner, 160,000 BTU liquid propane (LP) commercial grill is a work horse. Choose to run it all day or just for an hour - you will feed any size crowd quickly and easily.
BEST SELLER
The A4TS is the preferred built-in model of Big John customers
QUALITY & DURABILTY
Designed to withstand years of use in an outdoor entertaining space. Learn More
PROFESSIONAL PERFORMANCE
Achieve world-class steak house sear marks & authentic barbecue flavor with our commercial gas grills. Learn More
EASY TO OPERATE
Simply turn on the gas and light the grill with a match or lighter. Fast heat up allows you to set up and start cooking in minutes.
PROUDLY MADE IN THE U.S.A.
Assembled Dimensions
• Cooking Surface: 65"L x 16 1/8"W (1,056 sq. inches)
• **PLEASE NOTE: All measurements are rough. Big John Grills recommends having equipment in hand for exact dimensions.**
Superior Components (Learn More)
• 8 burner tubes rated at 20,000 BTU's each and total grill BTU output of 160,000
• 8 adjustable, individually controlled, brass control valves with black knob
• Genuine Colorado lava rock, Ships with 4 bags (1 bag per section)
• 4 Stainless Steel Grates measuring 16 1/8"L x 16 1/8"W and weighing 11 lbs. each
• Double Walled Fire Box manufactured from 304 Type Stainless Steel
• Stainless Steel Fit-All, Roll-Top Hood
Mobility
• Total package weight as pictured is 237 lbs.
Shipping Information
• Shipment Dimensions Including Hood: 77"L x 28"W x 36"H = 44.92 cubic feet, shipping weight is 342 lbs.
• Ships via Common Carrier Freight (UPS Freight, XPO Logistics) tail gate delivery.
Propane Tanks
• 20 lb. Tank Burn Time: Not Recommended – Cannot Support Large Capacity Grill
• 30 lb. Tank Burn Time: 5-9 hours
• 40 lb. Tank Burn Time: 7-12 hours
• 100 lb. Tank Burn Time: 12-18 hours
All Big John Equipment Is Manufactured For Outdoor Use Only
Accessories

for the A4TS-LPSS Combo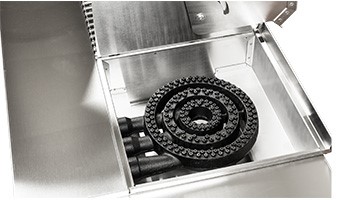 Custom 60K BTU Utility Stove
Item# 300616
Special order option for new grills only. Grill production time may vary. Please call for additional information if you would like this option built into your new grill. Convert 1 section of your gas grill into a 60,000 BTU range burner with 3 separately controlled rings to accomodate different heat settings.
Upgrade For NEW A-Series PROPANE Grills Only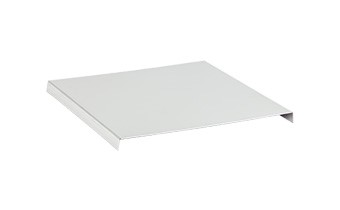 Stainless Steel Weather Cover
Item# 302200
16 1/2" x 16 1/2 " Flat Stainless Steel Weather Cover offers protection for installed /60 triple ring burner when not in use.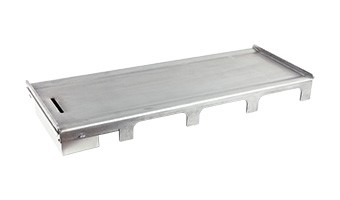 SG-3 Griddle Plate
Item# 301113
Converts 2 sections of your gas grill into a 16" x 40" high capacity griddle. This unit is manufactured from 1/4" thick steel and features a grease trap and removable drip tray. Cannot be used on a grill with a hood.
Compatible with All Country Club, P-Series, Stainless Steel Elite, and Trail Boss Gas Grills.
Accessory For A-Series PROPANE Grills Only
Step-Up Rack
Item# 301114
Sit this rack on top of 1 grill grate and increase your cooking surface. Use it as a warmer for food already cooked or as a bun warmer.
Not Compatible with Trail Boss I or Trail Boss II
Accessory for A2, A3, & A4 Gas Grills