A4TS-LPSS
SKU: 300610-LPSS
A4TS with Stainless Steel Grates
INCLUDES:
| | |
| --- | --- |
| Propane Grill (LP Gas) |   |
| Stainless Steel Grates |   |
This grill is Propane Gas, but is available for Natural Gas. If you wish to order a Natural Gas grill, please call us at 800-326-9575.
Need Replacement Parts?
LARGEST SIZE
This 65", 8 burner, 160,000 BTU liquid propane (LP) commercial grill is a work horse. Choose to run it all day or just for an hour - you will feed any size crowd quickly and easily.
BEST SELLER
The A4TS is the preferred built-in model of Big John customers
QUALITY & DURABILTY
Designed to withstand years of use in an outdoor entertaining space. Learn More
PROFESSIONAL PERFORMANCE
Achieve world-class steak house sear marks & authentic barbecue flavor with our commercial gas grills. Learn More
EASY TO OPERATE
Simply turn on the gas and light the grill with a match or lighter. Fast heat up allows you to set up and start cooking in minutes.
PROUDLY MADE IN THE U.S.A.
Assembled Dimensions
• Cooking Surface: 65"L x 16 1/8"W (1,056 sq. inches)
• **PLEASE NOTE: All measurements are rough. Big John Grills recommends having equipment in hand for exact dimensions.**
Superior Components (Learn More)
• 8 burner tubes rated at 20,000 BTU's each and total grill BTU output of 160,000
• 8 adjustable, individually controlled, brass control valves with black knob
• Genuine Colorado lava rock, Ships with 4 bags (1 bag per section)
• 4 Stainless Steel Grates measuring 16 1/8"L x 16 1/8"W and weighing 11 lbs. each
• Double Walled Fire Box manufactured from 304 Type Stainless Steel
• Stainless Steel Fit-All, Roll-Top Hood
Mobility
• Total weight of grill as pictured is 165 lbs.
Shipping Information
• Shipment Dimensions: 77"L x 28"W x 17"H = 21.21 cubic feet, shipping weight is 205 lbs.
• Ships via Common Carrier Freight (UPS Freight, XPO Logistics) tail gate delivery.
Propane Tanks
• 20 lb. Tank Burn Time: Not Recommended – Cannot Support Large Capacity Grill
• 30 lb. Tank Burn Time: 5-9 hours
• 40 lb. Tank Burn Time: 7-12 hours
• 100 lb. Tank Burn Time: 12-18 hours
All Big John Equipment Is Manufactured For Outdoor Use Only
Accessories

for the A4TS-LPSS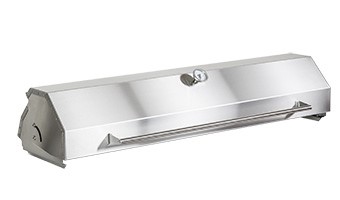 A4 Stainless Steel Fits-All Hood
Item# 301093A
Our Stainless Steel fits-all hood with built in thermometer traps the heat, moisture, and natural smoke flavor desired for cooking a variety of foods. It also protects your grill from the elements when not in use. Attaches using sheet metal screws. Must remove grill grates and burner insert pans to attach.
accessory for a4cc-sse & a4ts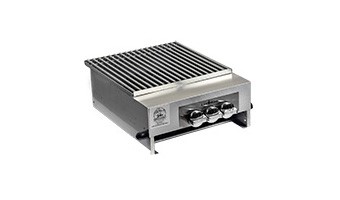 A1TS/60
Item# 300615acc
Add a triple ring side burner to your outdoor kitchen. Cast Iron, three individually controlled rings, 60,000 BTU burner encased in stainless steel body.
Accessory for A4TS, A3TS, & A2TS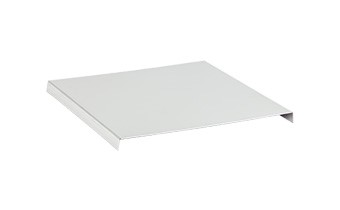 Stainless Steel Weather Cover
Item# 302200
16 1/2" x 16 1/2 " Flat Stainless Steel Weather Cover offers protection for installed /60 triple ring burner when not in use.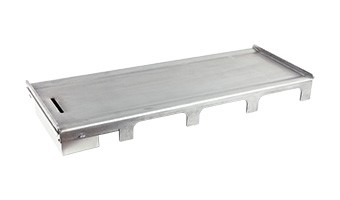 SG-3 Griddle Plate
Item# 301113
Converts 2 sections of your gas grill into a 16" x 40" high capacity griddle. This unit is manufactured from 1/4" thick steel and features a grease trap and removable drip tray. Cannot be used on a grill with a hood.
Compatible with All Country Club, P-Series, Stainless Steel Elite, and Trail Boss Gas Grills.
Accessory For A-Series PROPANE Grills Only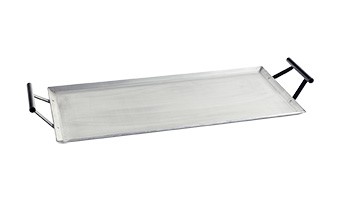 SG-2 Griddle Plate
Item# 301110
Converts 2 sections of your gas grill into a 15" x 30" griddle. Manufactured from steel to provide excellent heat retention, strength, and durability.
Compatible with All Country Club, P-Series, Stainless Steel Elite, and Trail Boss Gas Grills.
ACCESSORY FOR A-SERIES PROPANE GRILLS ONLY