A1TS/60
SKU: 300615-LP
$1,050.00
A1TS/60 Built-in Gas Side Burner
CALL FOR LEAD TIME
INCLUDES:
| | |
| --- | --- |
| Propane Side Burner (LP Gas) | $1050 |
| Stainless Steel Grate | $Included |
| Stainless Steel Weather Cover | $Included |
This unit is for Propane Gas, but is available for Natural Gas. If you wish to order a Natural Gas unit, please call us at 800-326-9575.
Need Replacement Parts?
VERSATILE
Whether you want to simmer, sauté, stir-fry, steam, boil, or deep fry this built-in utility stove and do it and more.
PROFESSIONAL PERFORMANCE
The A1TS/60 features our Big 60 I burner, the best outdoor stove on the market. A large 10" diameter, low pressure, triple ring burner can be controlled from 2,000 BTU's - 60,000 BTU's using the three independent control valves.
COMMERCIAL CONSTRUCTION
Our A1TS/60 features a 10" triple ring burner made of cast iron enclosed in a stainless steel chassis with an 11 lb. solid stainless steel cooking grate.
QUALITY HEATING
The 60,000 BTU adjustable, low-pressure burner evenly distributes a clean-burning and efficient blue flame across the entire bottom of the pot.
PROUDLY MADE IN THE U.S.A.
When you purchase equipment from Big John, you are getting a product made from the highest quality materials that is manufactured, assembled, and packaged in the U.S.A.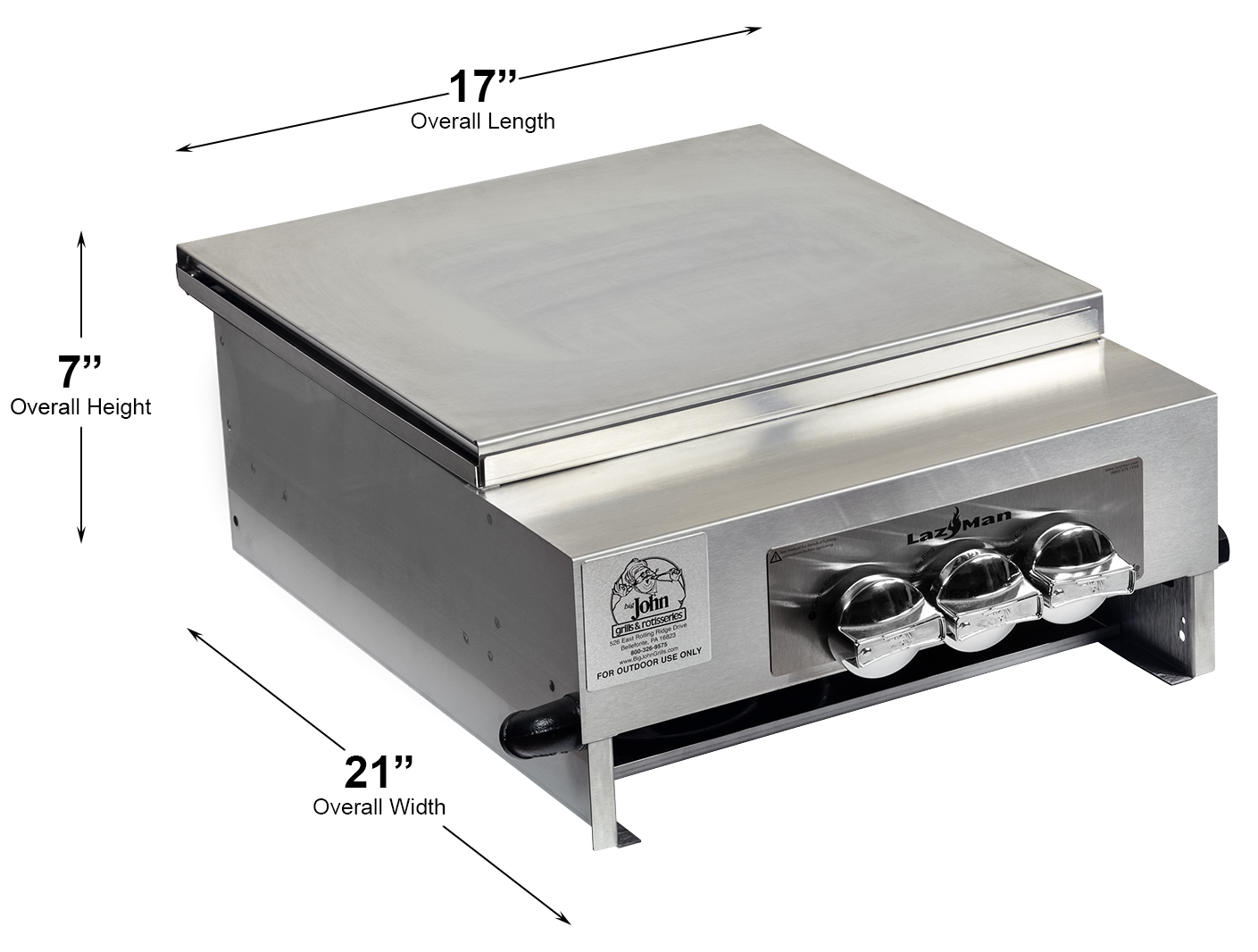 Assembled Dimensions
• Surface: 16 5/8" L x 21" W (349 sq. inches)
• **PLEASE NOTE: All measurements are rough. Big John Grills recommends having equipment in hand for exact dimensions.**
Superior Components
• 1 – Cast Iron 10" diameter 3-ring burner ranging from 2,000 BTU's to 60,000 BTU's.
• 3 adjustable, individually controlled valves
• 1 Stainless Steel Grate measuring 16 1/8" L x 16 1/8" W and weighing 11 lbs.
Mobility
• Total weight of A1TS/60 is 55 lbs.
Shipping Information
• Shipment Dimensions: 48"L x 44"W x 15"H= 18.33 cubic feet, shipping weight is 90 lbs.
• Ships via Common Carrier Freight (UPS Freight, XPO Logistics) tailgate delivery.
Propane Tanks
• 20 lb. Tank Burn Time: up to 7 hours
• 30 lb. Tank Burn Time: up to 11 hours
• 40 lb. Tank Burn Time: up to 14 hours
• 100 lb. Tank Burn Time: up to 36 hours
All Big John Equipment Is Manufactured For Outdoor Use Only
Accessories

for the A1TS/60