SH140L with 60 Qt. Pot Set
SKU: 300228-400106
SH140L Gas Pot Cooker and 60 Quart Pot Set
INCLUDES:
| | |
| --- | --- |
| Propane Pot Cooker (LP Gas) | $90 |
| 60 Quart Pot Set | $170 |
SUPERIOR PERFORMANCE
Specifically designed to heat quickly, this high-output pot cooker is a great choice when it comes to boiling, brewing, canning, or frying. The high-pressure burner system makes this pot cooker a great addition to any outdoor kitchen. The small size and portability make this a great unit for camping and emergency preparedness.
COMMERCIAL CONSTRUCTION
The sturdy frame gives each chef the option to operate the unit on a table-top or have it free standing using the included leg extensions.
PACKAGE DEAL
We pair this utility stove with a 60 quart pot set made from 3004 aluminum that spreads heat evenly along the base and sidewalls for efficient heating. This pot set features a straining basket, lid, and pot with double thick top ring and double thick bottom to prevent warping and resist denting.
PROUDLY MADE IN THE U.S.A.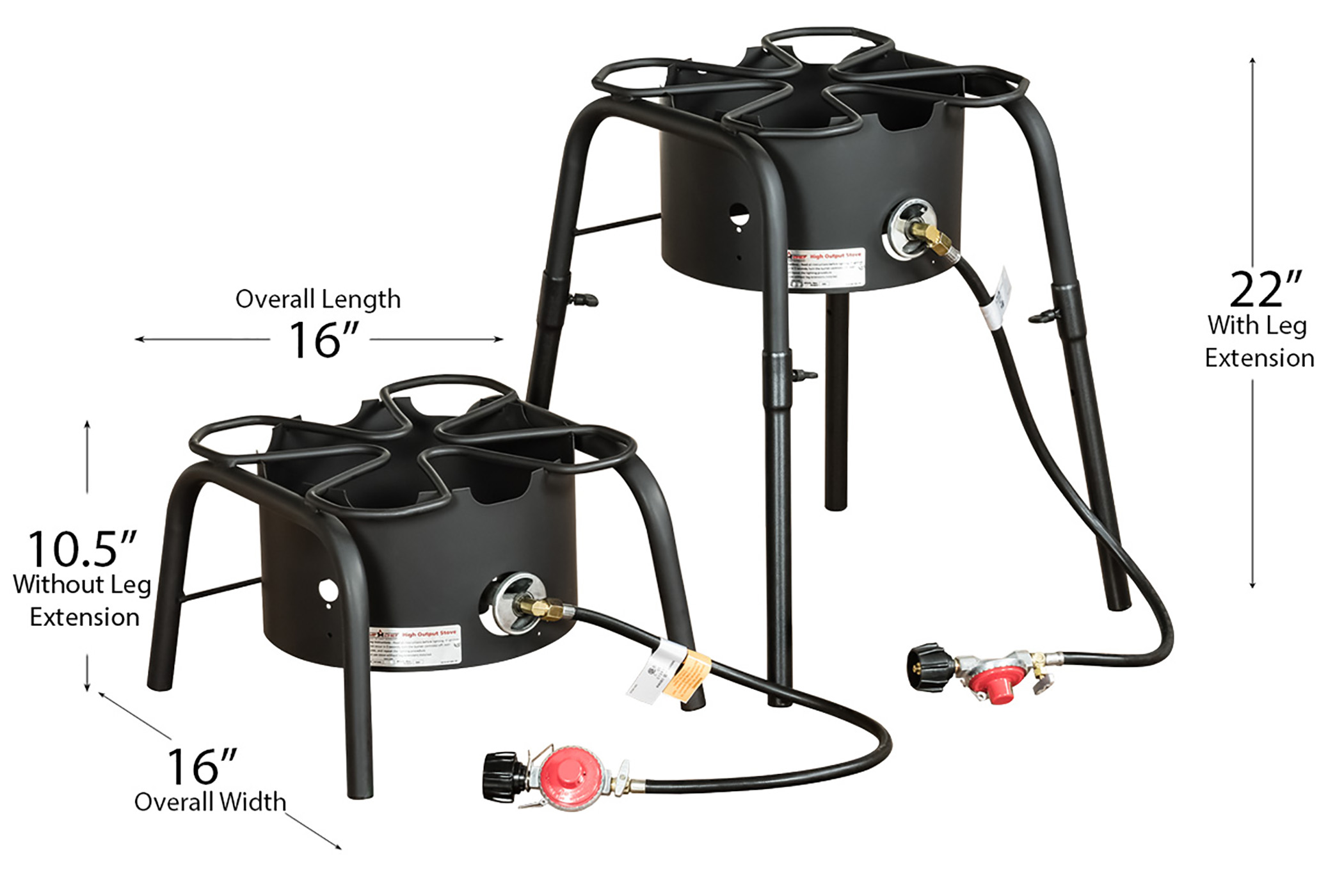 Assembled Dimensions
• Surface of SH140L: 13.75"L x 13.75"W (189 sq. inches)
• Pot Dimensions: 16 3/4"D x 15 7/8"H (10 Gallons)
• **PLEASE NOTE: All measurements are rough. Big John Grills recommends having equipment in hand for exact dimensions.**
Superior Components
• 3' High Pressure Hose & Regulator Kit
• Needle Valve Temperature Controls
• 60,000 BTU Burner
• 4 leg extensions (12")
Mobility
• Total weight of SH140L & 60 Quart Pot Set is 40 lbs.
Shipping Information
• Shipping weight is 40 lbs.
• Ships via UPS Small Package. Need it fast? Select UPS Expedited Shipping at checkout.
Propane Tanks
• 20 lb. Tank Burn Time: up to 7 hours
• 30 lb. Tank Burn Time: up to 11 hours
• 40 lb. Tank Burn Time: up to 14 hours
• 100 lb. Tank Burn Time: up to 36 hours
All Big John Equipment Is Manufactured For Outdoor Use Only
Accessories

for the SH140L with 60 Qt. Pot Set