2932SF
SKU: 30028P
Product Lead Time is ~10 Days.
2932SF Gas Funnel Cake Fryer with Basket
INCLUDES:
| | |
| --- | --- |
| Propane Fryer (LP Gas) | $2395 |
| Fryer Basket | $Included |
CONSTRUCTION
Easy cleaning, corrosion resistant stainless steel finish, welded with aluminized inner framing. Double wall construction with heavy insulation combined with a special flue design for cooler operation. Adjustable 4" stainless steel legs for easy leveling. Installation clearances for non-combustible surfaces are 2" on sides and 6" in the rear, combustible surface clearances are 6" and 6". Hinged front door panel protects controls..
BURNERS
Long life, cast iron "H" pattern burners combined with a special "V" shaped tank design directs heat for excellent air circulation.
CONTROLS
Snap Action thermostat for fast recovery, 100% safety shut off, high limit control for back-up safety, automatic standing pilot and brass burner valves. Pressure regulators are set at the factory for natural gas and easily convertible to propane. Optimal pressures are 4" WC for natural gas and 10" WC for propane. Manifold size is 3/4" NPT. All controls are tested and confirmed in good working order. Calibration and adjustments are the responsibility of the installer.
TANK
Easy cleaning, corrosion resistant stainless steel with angled bottom 3/4" gate valve for rapid draining.
PROUDLY MADE IN THE U.S.A.
SOURCE: CASTLE STOVE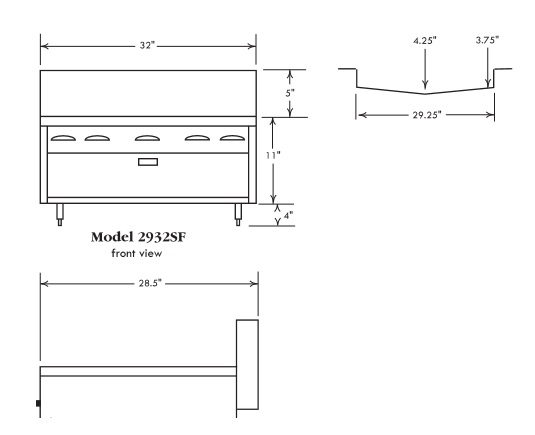 Width - 32"
Depth - 28.5"
Height - 20"
Tank Interior Dimensions: 29.25"L x 21"W x 4.25"H
Gallons: 5.5 - 6
Product Shipping Weight: 150 lbs.
Total B.T.U.: 90,000
SOURCE: CASTLE STOVE
All Big John Equipment Is Manufactured For Outdoor Use Only
Accessories

for the 2932SF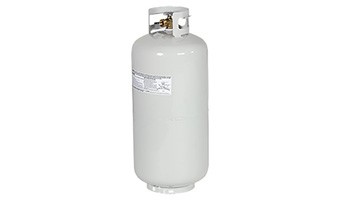 40 lb. Propane Cylinder
Item# 301017
For safety and convenience we only sell Worthington Cylinders that feature Overfill Protection Device valves. These tanks have both inner and outer threads to accept all standard POL & QCC fittings.
Accessory For all propane Units