SH140L
SKU: 300228
SH140L Gas Pot Cooker
INCLUDES:
| | |
| --- | --- |
| Propane Pot Cooker (LP Gas) |   |
POWERFUL
Specifically designed to heat quickly, this high-output pot cooker is a great choice when it comes to boiling, brewing, canning, or frying. The high-pressure burner system makes this pot cooker a great addition to any outdoor kitchen. The small size and portability make this an excellent unit for camping and emergency preparedness.
COMMERCIAL CONSTRUCTION
The sturdy, durable frame gives each chef the option to operate the unit on a table-top (10.5" tall) or have it free-standing using the included leg extensions (22" tall).
SUPERIOR PERFORMANCE
This 60,000 BTU high-pressure unit will quickly boil water and get oil up to temperature to ensure you are cooking efficiently.
COOKING AREA
189 in2 of cooking space is plenty large enough to accommodate large pots and skillets.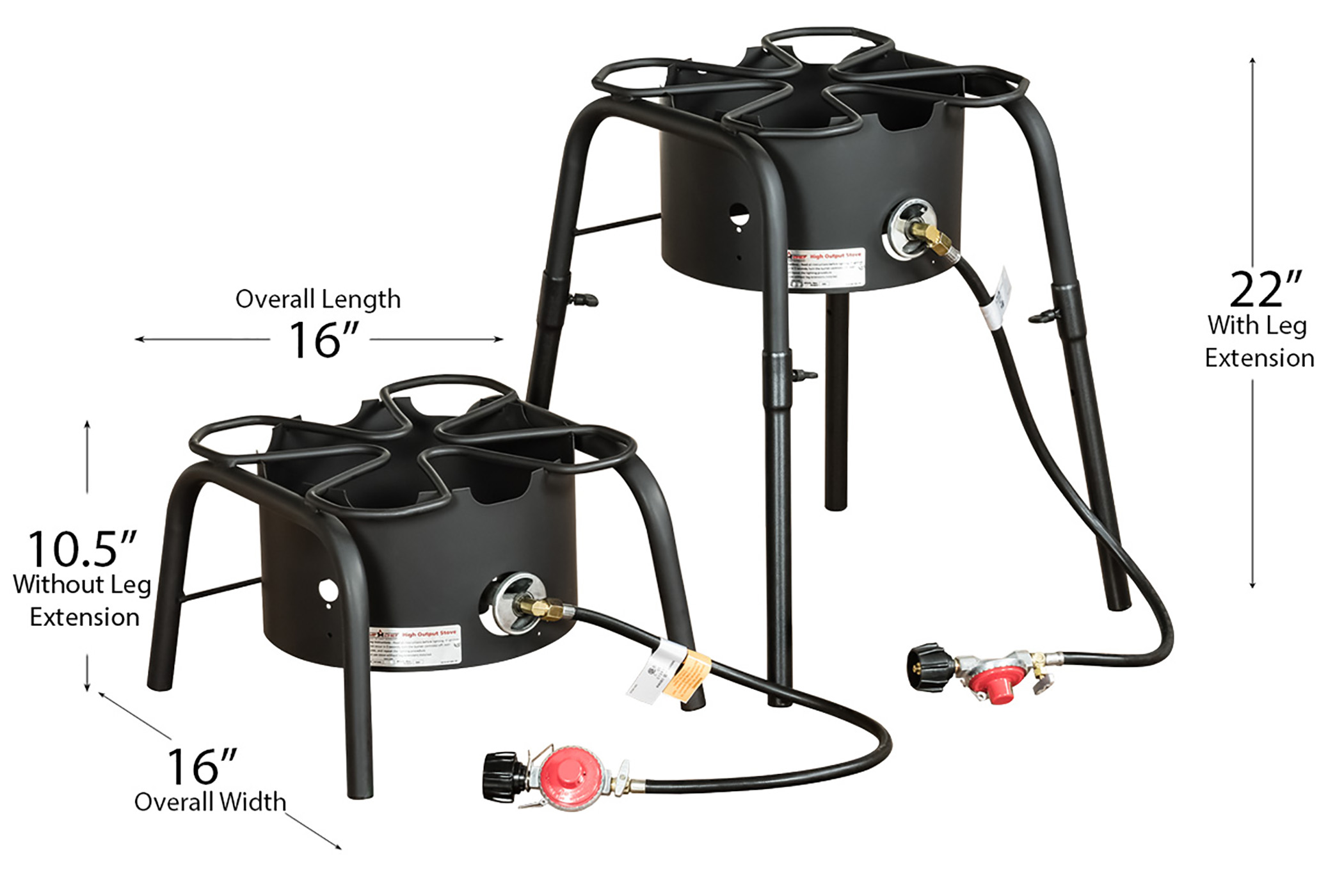 Assembled Dimensions
• Surface of SH140L: 13.75"L x 13.75"W (189 sq. inches)
• Pot Dimensions: 14" D x 15 1/16" H (8 Gallons)
• **PLEASE NOTE: All measurements are rough. Big John Grills recommends having equipment in hand for exact dimensions.**
Superior Components
• 3' High-Pressure Hose & Regulator Kit
• Needle Valve Temperature Controls
• 60,000 BTU Burner
• 4 leg extensions (12")
Mobility
• Total weight of SH140L & 40 Quart Pot Set is 33 lbs.
Shipping Information
• Shipping weight is 33 lbs.
• Ships via UPS Small Package. Need it fast? Select UPS Expedited Shipping at checkout.
Propane Tanks
• 20 lb. Tank Burn Time: up to 7 hours
• 30 lb. Tank Burn Time: up to 11 hours
• 40 lb. Tank Burn Time: up to 14 hours
• 100 lb. Tank Burn Time: up to 36 hours
All Big John Equipment Is Manufactured For Outdoor Use Only
Accessories

for the SH140L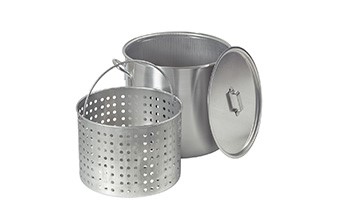 60 Quart Pot Set
Item# 400106access
Ideal for steaming or frying - lobster, clams, shrimp, or fish boils as well as to steam-cook vegetables and deep-fry turkeys. The included perforated basket can also be used for draining foods and are ideal for veggies and pastas. The bail handle is made for easy removal from pot for quick draining. Features 3/8" embossed feet. This set is manufactured from fast, even-heating 3004 aluminum with double-thick tops and bottoms for extra strength in the critical stress areas.
ACCESSORY FOR ALL UTILITY STOVES & POT COOKERS